A global virtual team of IBM volunteers refresh non-profit websites in 48 hours
July 2020 | IBM Volunteer Story
"We provided about USD 140,000 of value in one weekend," says Bee-Lian Quah, who coordinated the IBM volunteers.
How effective can volunteering be from home? Especially on projects that require collaboration and intense discussion?
"I was again blown away by what our IBM team was able to accomplish," says Bee-Lian Quah, an IBM associate partner and strategy consultant, referring to a recent work-from-home effort by IBM volunteers in Canada, Germany and the US.
For several years, Bee-Lian has coordinated IBM volunteers working with an organization called 48in48, holding hackathon-style events in cities around the world to build websites for not-for-profit organizations in 48 hours; IBM volunteers received the IBM Volunteer Excellence Award for their work in 2018.
Usually the sessions are held in-person and on-site, but 48in48 had to scale back its plans for 2020 because of COVID-19.
However, as Bee-Lian explains, "Knowing that nonprofits needed these services more than ever, our IBM team began discussing how to hold a fully virtual event and we set a goal to run a pilot event in June, with all IBM volunteers."
Virtual volunteering delivers real value
Starting on Friday, June 12, 57 IBM volunteers in three countries worked remotely and participated in the first fully virtual 48in48 event—building websites for seven nonprofits over the course of 48 hours (summaries shown below).
"In our case, volunteering from home was incredibly successful," says Bee-Lian. "The organizations are driving positive change, which is really needed now, so they don't have time to work on their websites, even though those sites are a key channel to engage their audiences. Our work provided about USD 140,000 of value in one weekend and helped them stay focused on delivering services to their communities."
Some healthy competition was included as the organizations with the top three revamped websites, as voted on by the volunteers, received grants from IBM.
"The professionalism and solution-oriented mindset of the IBM volunteers has always been key to the success of our events," says Sima Parekh, executive in residence at 48in48.
She adds, "Bee, Arti Badami, Gabby Kirschner and Phil Robertson have supported multiple events over the years and this year's IBM planning committee helped us pivot from on-site events so we can support nonprofits with virtual events; we are grateful for our incredible relationship with IBM!"
Sima's summary of the event includes a short video.
IBM planning leads: Arti Badami, Phil Robertson
IBM planning committee: Rebecca Chandler, Tianda Harris, Gabby Kirschner, Katy O'Donohue, Erin Scanlon, Sally Yang
Below are the individual websites before and after the work done by the volunteers, along with the names of the IBM volunteers who participated on each project.
IBM volunteers: Clare Carroll (PM), Ruma Dubey, Kenneth Haas, Sean Loyless, Gabrielle Pullia, Leigh Hunter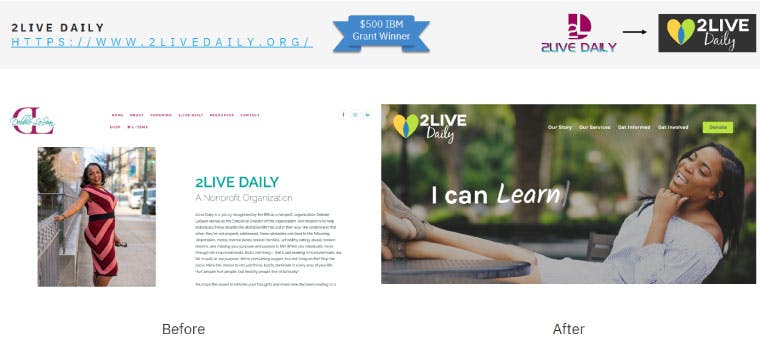 IBM volunteers: Jessica Blum (PM), Fami Hairadin, Maya Valderrama, Ida Vogelzang, Pranav Chunduri, Subhajit Roy, Shirley Ngo, Patrick Meyer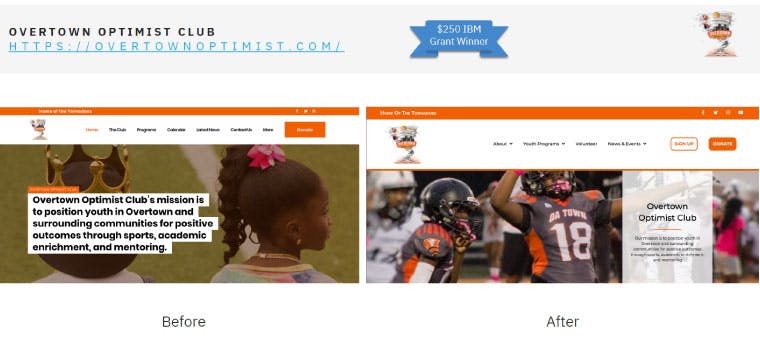 IBM volunteers: Art Liem (PM), Chris Li, Ryan Dodds, Sanjib Manna, Satya Vedamtam, Brooke Jones, Beth Chatman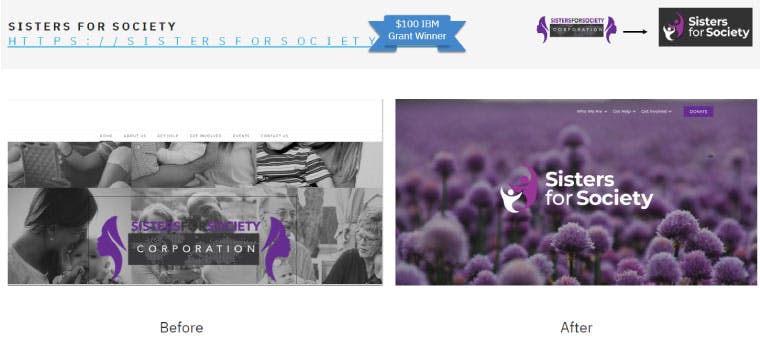 IBM volunteers: Molly Vannucci (PM), Duane Leckey, Kara Jones, Shubhojit Chowdhury, Kyndal Dattani, Fabian Klonsdorf, Judy Zhuang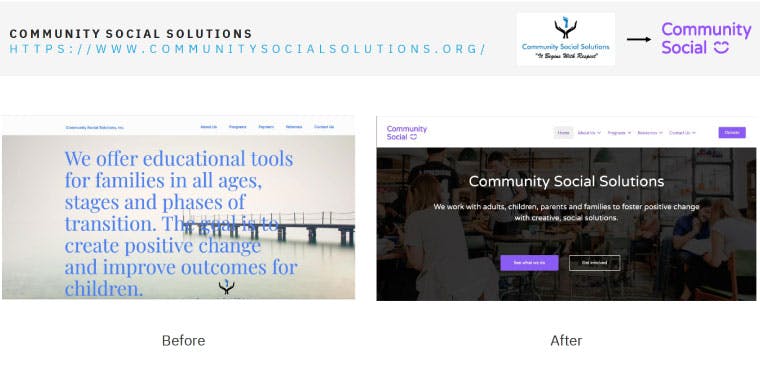 IBM volunteers: Megnot Hailu (PM), Carly Cyr (PM), Wendy Qu, Taylor Swope, Deedra Buxton, Rahul Chahar, Lisa Brown, Tess Mattimore, Visruti Sankar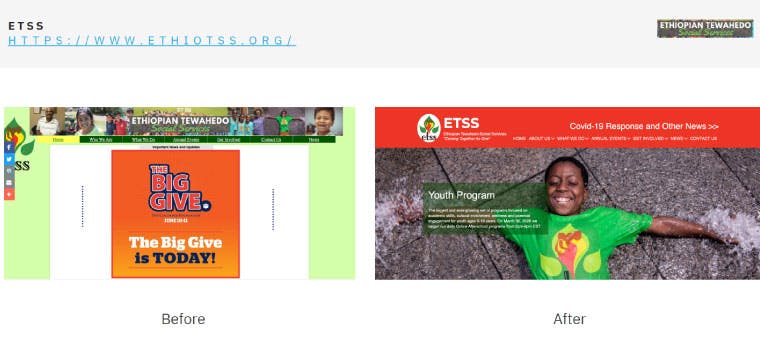 IBM volunteers: Hannah Morgan (PM), Preeti Gupta, Morning Shu, Allie Jehle, Carrie Mah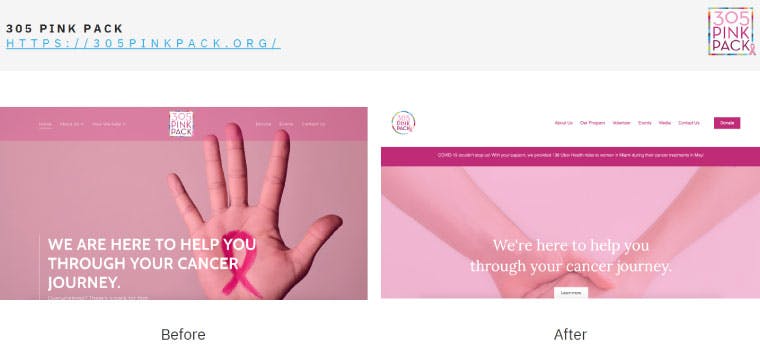 IBM volunteers: Winnie Meikle (PM), Bala Sankar, Lindsey Holladay, Mao Vang-Corne, Amanda Downie, Lakshmi Singh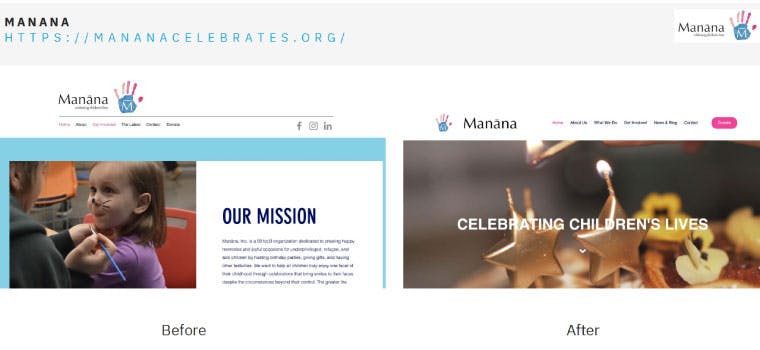 Join the conversation
Tag your tweets with #IBMVolunteers
and follow us @IBMorg.
Activity Kits
Get inspired with these resources