Congratulations! You got the job! 
Working in a corporate role can open the door to opportunities, but navigating the corporate world as a new hire can be daunting. If you have friends or family with corporate experience, they can help answer questions you have and give advice to help you prepare for your first day. But what if you are the first person in your family to join a corporate team and don't have an established support system? 
Regardless of when you start a corporate job, you may hear the words "mentor," "sponsor," or "champion." These informal roles are filled by experienced individuals and can have very real, beneficial impacts on your career. You know that having an influential, strong leader in your corner can help propel your career, so you start looking for potential mentors on day one of your new job. As you begin your search for a mentor, you realize there aren't many minority leaders at your organization. The lack of diversity makes you wonder if you can have genuine conversations about your struggles adjusting to corporate life. Will your opinions be heard and valued? What can you do to make a difference?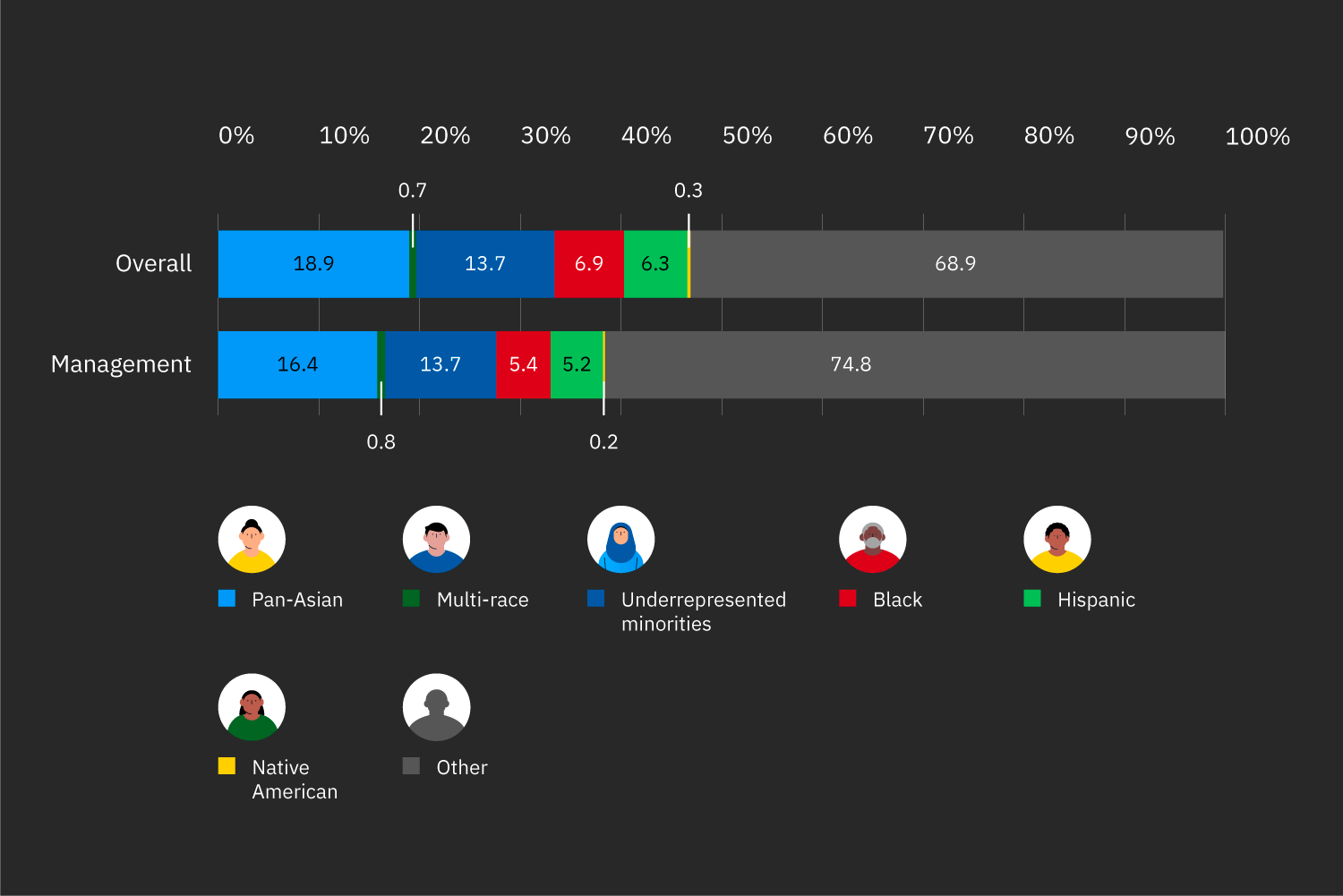 Transparency around diversity data is one way corporate leadership can be held accountable for taking steps toward greater equity. There is a long road ahead to improving representation, but there are also many reasons to celebrate progress. Learn how an inclusive work environment helped people of all different backgrounds and abilities build rewarding careers, develop new skills and find meaning, purpose and a sense of belonging in the workplace in IBM's 2020 Diversity and Inclusion Report. 
While we recognize gaps where progress is still needed, it is also important to celebrate small wins and allyship. Take a look at IBM's Be Equal Timeline to see how IBM has lead the charge in allyship for the past 100 years and explore the many ways you can become an ally yourself.
Omid's Story
Omid recently finished a career-accelerator fellowship program with his university. As part of the fellowship program, he was paired with a mentor, Sam, who is a Vice President at the company that he hopes to work for upon graduation. Sam's company partnered with Omid's university, a Historically Black College and University (HBCU), to bring in new talent from underrepresented communities. Upon graduation, Omid is delighted to accept an offer to join Sam's company in a new, innovative product development division. 
Three years later and Omid is thriving in his career. Sam is no longer at the company, but Omid sees Sam as a mentor and they speak regularly. Omid is a top performer; a product idea that he pitched has become one of the company's best sellers. Omid is happy because of the recognition he has received for his work from his manager Aniko and hopes for a promotion. In the past, Omid has initiated promotion conversations with Aniko without success, despite receiving stellar marks in evaluations. Omid hopes this year's annual review is different.
Omid is nervous as he walks into Aniko's office, but after preparing with Sam, Omid is confident he deserves a promotion and feels ready to ask for one. Aniko praises Omid's work ethic and performance, but Omid is shocked and disappointed that he will not be promoted again this year.
Omid walks out of the room and approaches a table where some colleagues are sitting. Omid tells them about the conversation with Aniko and how disappointed he is about the final results. Omid's colleagues are shocked because Omid is clearly a top performer. One colleague says, "I didn't have to do nearly as much as you did for my promotion," and a few others around the table agree. Another colleague says she has also been fighting for a promotion with no progress, despite receiving high performance reviews for the past four years in a row. Omid notices the people who have been promoted under Aniko are all of the same race. Could Aniko's promotion decisions be biased? How can Omid advocate for himself and where can he go for help?
Will you land on chutes or ladders?
Roll the dice and find out your fate
Resources
Level-up your learning using these recommended resources
↓
07